The National Security Journal (NSJ) is an open access journal that aims to provide a platform for the dissemination of high quality academic and professional research on national security topics relating to New Zealand and its regional environment.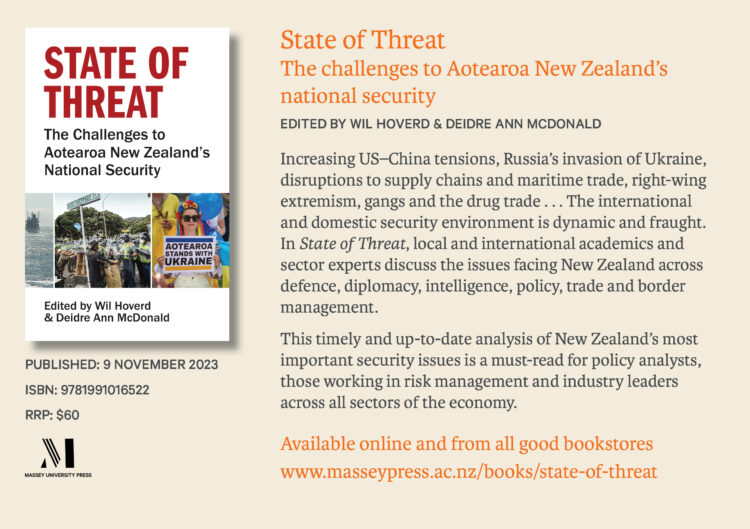 Volume 5, 2023
Mental Health, Messaging and Security in Times of Crisis
Mortensen, James & Gibson, Andrew J.
Keywords: Conspiracy theories, psychology, sociology, crisis, security policy, government messaging
A New Role for New Zealand in the Pacific 
Hon. Derek Quigley
Fusing Intelligence and Strategy Capabilities: The MIQ Experience
Kay, Harriet, Keymer, Paul, Mackey, Sarah & Vickers, Shae
Book Review – Secret History: State Survelliance in New Zealand, 1900 – 1956
Authored by Richard S. Hill and Steven Loveridge, Auckland University Press, 2023
Reviewed by Damien Rogers
Volume 5, Issue 1
New Zealand and Counter Terrorism Special Issue
Introduction
Trans-disciplinary Dialogue on New Zealand's Counter Terrorism Approach: A Call to Action for Researchers
Jackson, Richard & Rogers, Damien
Action Zealandia, New Zealand's Aspiring Brownshirts
Wilson, Chris & Halpin, James
Keywords: Action Zealandia, Extremism, Terrorism, New Zealand, Far Right, White Nationalism
Left-wing Violent Extremism: Identifying Precursors and Growth in New Zealand
Tibby, Che & Bayly, Cameron
Keywords: Left-wing extremism; New Zealand; violent extremism; national security.
Modelling Radicalisation: Applying Situational Action Theory to the Christchurch Attacks
Desai, Vikrant
Keywords: Radicalisation, terrorism, violent extremism, Situational Action Theory of crime, criminology, interventions
News Media and the Public Discourse on Terrorism in Aotearoa New Zealand
Qiwei Kang
Keywords: Critical Terrorism Studies, Discourse Analysis, News Media, Christchurch terrorist attacks
A History of Violence: A Critical Overview of Aotearoa New Zealand's Approach to Terrorism
Le Gros, Lydia
Keywords: New Zealand, terrorism, legislation, history, colonisation, News Media and the Public Discourse on Terrorism in Aotearoa New Zealand
Unpacking Foreign Fighting: New Zealand's Legislative Responses to Transnational Combatants
Llyodd, Marnie
Keywords: New Zealand; law; armed conflict; solidarity; foreign fighting; foreign enlistment; counterterrorism; mercenaries; Ukraine; Syria
Towards a Decolonial Approach to New Zealand's Counter Terrorism: Afrocentric Perspectives
Achieng, Shirley
Keywords: counterterrorism, decolonial, epistemic reconstitution, coloniality, othering, Afrocentrism
Restorative Justice, Social Cohesion, and Preventing and Countering Terrorism and Violent Extremism: Time for a New Zealand Praxis?
Simons, Jeremy
Keywords: Restorative Justice, Peacebuilding, Social Cohesion, Terrorism and Violent Extremism, Binding, Bonding, Bridging, Linking, Bi-cultural, Māori
Volume 4
Counter Terrorism: Intelligence and the Fire Service
Miletta, Samuel
Keywords: Counter-terrorism, intelligence, network fusion, fire service, national security
Maritime Connections between New Zealand and Sri Lanka: Connected by Empire, Separated by Distance
Senaratne, Bhagya & Nicklin, Germana
Keywords: British Empire, Island-state, Maritime Security, Maritime Connections, New Zealand, Sri Lanka
A Counter-Drone Strategy for New Zealand
Shelley, Andrew. V.
Keywords:Civil Aviation Bill, counter-drone, drones, Unmanned Aerial Systems,
risk analysis, security strategy
The Violent Extremism Ideological Framework Explained
Authored by The Combined Threat Assessment Group (CTAG)
Understanding National Security as Contextual: The Implications for Small State Defence Policy
Johanson, T.
Keywords: National Security, military forces, small states, defence policy, international security
Book Review – 'Outlaw Bikers and Ancient Warbands: Hyper-Masculinity and Cultural Continuity'
Authored by Carl Bradley, Springer Nature, 2021
Reviewed by Damien Rogers
Volume 3, Issue 4
Stockholm International Peace Research Institute Special Issue
Introduction – SIPRI Special Issue
(Updated 01 March 2022)
by Rouben Azizian & Lora Saalman
The South Asia Stability-Instability Paradox Under the Nuclear Shadow
Brewster, David
Keywords: Nuclear Deterrence, South Asia, Stability-Instability Paradox
Developing a Framework for Evaluating Nuclear Risks in South Asia
Jingdong Yuan
Keywords: No First Use, Nuclear Risks, South Asia, Technologies, Nuclear Escalation,
Nuclear Doctrine
Challenges in Nuclear Posture and Deterrence from India's Perspective
Sharma, Armit
Keywords: South Asia, Terrorism, Nuclear Flashpoint, Strategic Stability
Challenges in Nuclear Posture and Deterrence from Pakistan's Perspective
Sultan, Adil
Keywords: Cold Start Strategy, Pro-active Operations Strategy, Full Spectrum Deterrence, No First Use, South Asia
Challenges in Nuclear Posture and Deterrence from China's Perspective
Wang Dehua
Keywords: South Asia, Nuclear, Deterrence, Treaty on the Non-Proliferation of Nuclear Weapons, Comprehensive Test Ban Treaty
Understanding Nuclear Postures, Weapons and Technologies in South Asia
Khanijo, Roshan
Keywords: Emerging Technologies, Strategic Stability, Second-strike Capability, Full-Spectrum Deterrence, Asymmetric Warfare
Exploring the Impact of Submarine Saturation on Strategic Stability in South Asia
Kupriyanov, Alexey
Keywords: Indian Ocean, People's Liberation Army Navy, Indian Navy, Pakistan Navy, Submarine
Evaluating the Intersection of Technology and Nuclear Escalation in South Asia
Chen, Kaiman
Keywords: nuclear escalation, Treaty on the Non-proliferation of Nuclear Weapons, Comprehensive Nuclear Test Ban Treaty, South Asia

Addressing Nuclear Challenges, Misperceptions and Geopolitics in South Asia
Chaudhry, Aizaz Ahmad
Keywords: South Asia, Strategic Stability, Nuclear Deterrence, Confidence-building Measures
Nuclear Posture and Technology Trends in South Asia and Ways Ahead
Stefanovich, Dmitry
Keywords: South Asia, nuclear weapons, strategic stability, arms control, nuclear proliferation, emerging technologies
---
Disclaimer – Views expressed in contributions to the National Security Journal are those of the authors, they do not necessarily reflect the views of the Centre for Defence and Security Studies. Any errors of fact are the responsibility of the authors.
ISSN (print) 2703-1926     ISSN (online) 2703-1934