Authors: Ball, R. & Quirke, S.
Published in National Security Journal, Volume 1, Issue 1, October 2019
entities and the varied industries within the private sector – currently present in the primary products space. We have added two additional types of counterfeiting that have been demonstrated within the New Zealand primary products context. These include 'IP Misuse' where illegitimate packaging or labelling is reproduced to look like the legitimate product, and 'Non-compliance' where goods that do not comply with regulator requirements are knowingly produced or sold.
---
Figure 1
New Zealand Primary Product Counterfeiting Typology17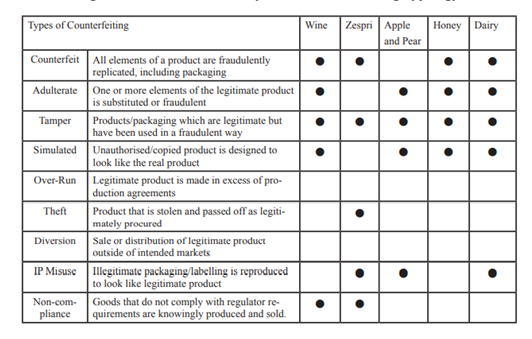 Spink suggests that "counterfeiting policymaking and priority setting", in this area, "can be supported by reviewing case studies and general assessments of the issues."18 Spink et al acknowledge the broad use of the term (as seen in the WTO definition) as well as its use in the specific infringement of intellectual property (IP) rights regarding trademarks and patents. They also provide clarity of definitions by establishing a separation between 'deceptive-counterfeit' products and 'non-deceptive' counterfeit products. The former are those presented in the marketplace as being genuine with the explicit intent to deceive the purchaser, and the latter are often acknowledged as counterfeit or imitation (often in the form of apparel or other types of luxury items) with no intention to deceive the purchaser, rather simply breaching IP and trademark rights.19The examples identified within the New Zealand primary products context sit largely within the 'deceptive-counterfeit' definition. The following five case studies provide examples